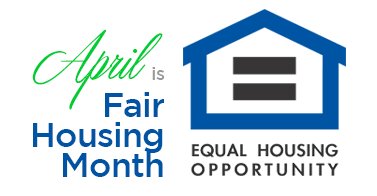 In April, we come together as a community and a nation to celebrate the anniversary of the passing of the Fair Housing Act and recommit to that goal which inspired us in the aftermath of Rev. Dr. Martin Luther King Jr's assassination in 1968: to eliminate housing discrimination and create equal opportunity in every community. This year marks the 49th anniversary of the Fair Housing Act, a landmark legislation that became law on April 11, 1968.
According to a press release at the HUD official site, this year's theme is "Fair Housing Equals Opportunity, highlighting equality in housing as a foundation upon which aspirations can be achieved and affirming the Fair Housing Acts ongoing role in confronting housing discrimination."
Fundamentally, fair housing means that every person can live free. This means that our communities are open and welcoming, free from housing discrimination and hostility. But this also means that each one of us, regardless of race, color, religion, national origin, sex, familial status, and disability, has access to neighborhoods of opportunity, where our children can attend quality schools, our environment allows us to be healthy, and economic opportunities and self sufficiency can grow.
Every person is connected to a family structure. Discrimination against families includes charging different prices, imposing additional fees, or establishing different rules because a family has children. Expectant families, whether it's pregnant women or couples in the process of adopting a baby, are also included.
As with other prohibited discrimination, some of the familial status discrimination we see can be attributed to not enough knowledge. One study conducted by HUD showed that fewer than half of the general public knows that familial status discrimination is against the law.  That is a core mission of Fair Housing Month – awareness.
Born out of a community redlining protest, HomeSource east tennessee was created by Knoxville's Partnership for Neighborhood Improvement, an organization comprised of bank leaders and residents who came together to address the problems of substandard housing and the lack of affordable housing in the Knoxville area in the late 1980s.
Understanding the complex nature of the problem and knowing that one entity alone could not solve the issue at hand, HomeSource east tennessee partners with local governments, businesses, and private citizens to provide affordable housing opportunities to residents of Knox County and the East Tennessee region.
The role of fair housing efforts is as relevant and important today as ever. This month, and every day, we must commit ourselves to promoting housing policies and practices that enhance opportunity for everyone, and every family.
Commitment to fair housing is a living commitment, one that reflects the needs of America today and prepares us for a future of true integration.