Rental Application
Interested applicants are requested to come by HomeSource east tennessee's office during business hours (Monday-Friday between 8 a.m. and 4:30 p.m) to complete an application.
A non-refundable application fee of $35 is required to cover credit and background reports.
Applicants will be asked to supply employment history (recent pay check stubs or verification of employment), bank statements, prior rental history, driver's license or state issued identification (ID), birth certificates, and social security cards for all who will be living in the household.
Applicants holding Section 8 Vouchers are eligible if other requirements are met. Applicants must not have outstanding balances with any other housing agency or entity or with the utilities company.
Applicants who wish to complete the rental application prior to coming to HomeSource east tennessee offices may download the application, the Title VI Civil Rights Act information sheet and the Landlord verification page (see below), complete them and bring all 3 into our offices along with the $35 non-refundable application fee that covers credit and background reports.
PLEASE NOTE: Application requires legal size (8.5″ X 14″) paper for printing. Partially printed applications will not be accepted.
For more information, contact LaShawn Hall at (865) 637-1679 ext. 228 or lhall@homesourcetn.org
---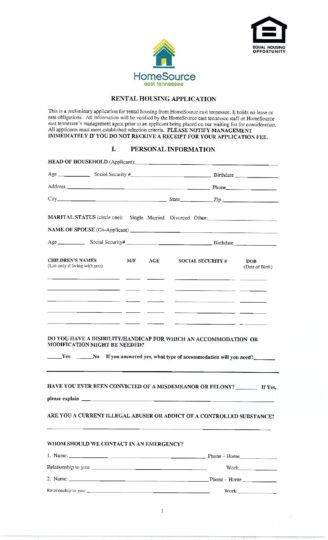 Application for Rental Housing (PRINT & COMPLETE)
For most HomeSource east tennessee properties. For Riverbirch Village and Blueberry Ridge, please see below.
---

Riverbirch Village Rental Application (PRINT & COMPLETE)

Riverbirch Village Tenant Selection Criteria (PRINT & COMPLETE)

Riverbirch Village Certification (PRINT & COMPLETE)
---

Blueberry Ridge Rental Application (PRINT & COMPLETE)

Blueberry Ridge Tenant Selection Criteria (PRINT & COMPLETE)

Blueberry Ridge Certification (PRINT & COMPLETE)
---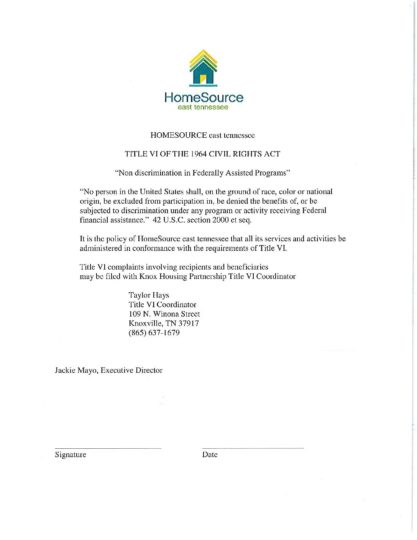 Title VI Civil Rights Act Information for Customers

Verification of Landlord